At Stickeryeti, we're proud to present our latest innovation: the holographic stickers ! An amazing chance to be original by adding a beautiful rainbow and metallic effect to your custom stickers. Get your message and logo out there by adding a guaranteed WOW-effect to your stickers - and you can be sure to increase the visibility of your brand!


More originality in your designs with holographic stickers
Yeti now allows you to create your own personalised stickers on a special material that produces a beautiful iridescent, shiny and glittering effect. They create a stunning, fun and original effect that is guaranteed to raise the profile of your company or brand, communicate your message and display your logo.
If you want your personalised stickers to stand out with a superb iridescent effect, this is the type of label you need!  Promote your brand, your company, your event or your association, and opt for the holographic stickers. With their eye-catching effects they'll never go unnoticed.
I'll customise my own set of holographic stickers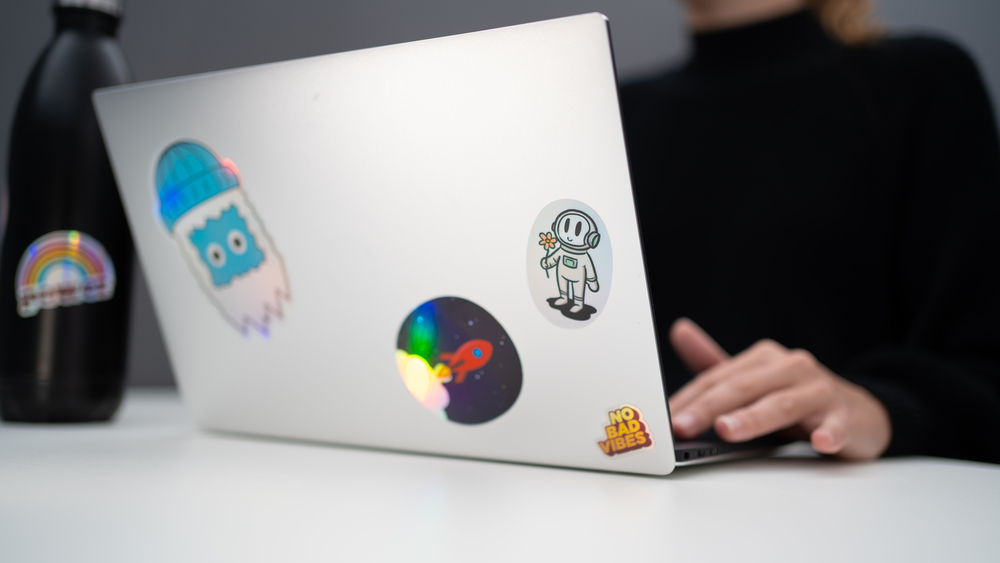 How can I use holographic stickers?
Custom holographic stickers can be used everywhere: on packaging, on your laptop or your bike, on walls or windows, on bottles and glasses - on any type of media or on different everyday items. Let your imagination run wild and decorate, display or highlight without limits!
Whether you're an association , a company, a sports club or simply a private individual , choose holographic stickers to make your logo visible, share your brand identity, and communicate a specific message or visual. Custom holographic stickers are also perfect for use on the high-end products you sell in your shop, whether they are cosmetics, food or flowers. They add a bright and playful touch that is sure to appeal to customers, especially in your physical shop.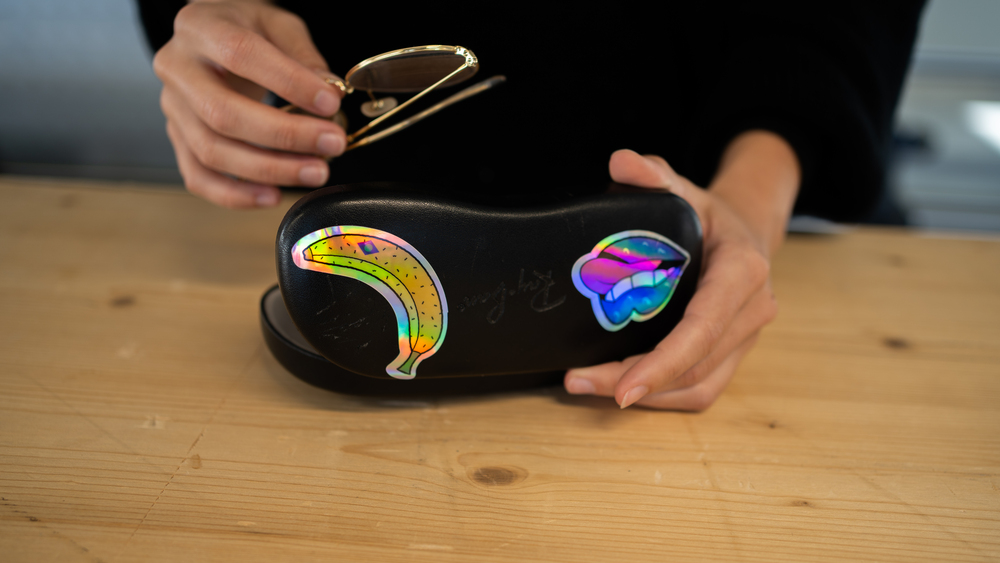 These holographic stickers will also bring back fond memories of childhood, when many of us used to cherish collectibles like Pokemon cards and football stickers. A rainbow and glittering effect was often synonymous with the rarity of the item and is also very popular with children. An effect that's as bright as it's fun!
Holographic stickers: the perfect mix of fun & quality
Made with a holographic film and a permanent adhesive, these stickers are both original and high quality products. They don't include the usual final lamination process, which guarantees an optimal iridescent effect. They're mainly intended for indoor use, and their lifespan will be reduced when used outdoors. For example, a holographic sticker stuck on a laptop will last longer than a sticker stuck on an outside wall exposed to rain and other elements.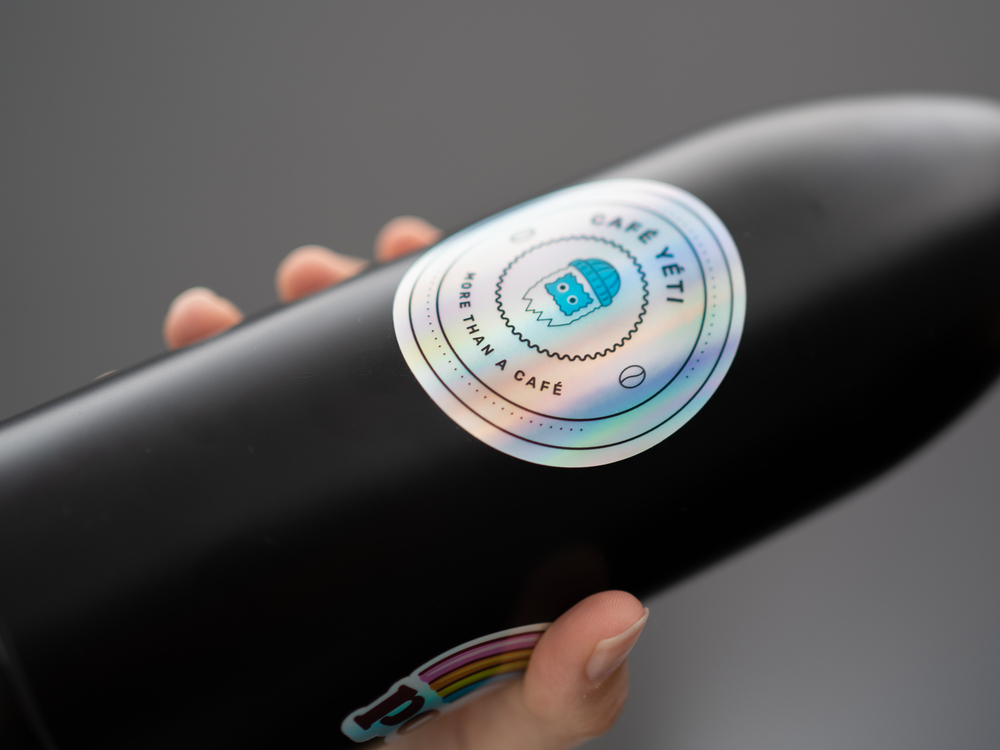 Before applying your custom holographic stickers, make sure that the surface is smooth, clean and dry. Even though they're not laminated, these special stickers are tear-proof. If you stick them on containers, their adhesion guarantees that they can be put in the freezer or the dishwasher. However, wait at least 48 hours for the adhesive to attach properly, before exposing your stickers to the elements!
100% customisable holographic stickers
Choose the shape and cut you want, upload your design and Yeti takes care of the rest! These holographic stickers are fully customisable and you can choose between several shapes of stickers: personalised , round , oval , with rounded corners , square or rectangular . Yeti also offers special stickers, available in all shapes and cuts. For example, pre-cut sheets with different designs on the same page are an excellent communication medium for handouts and a very popular gift for customers. You can also create customised white stickers with a holographic background and stickers printed with opaque white ink on a rainbow and metallic effect vinyl. These labels are also perfect for sticking on any surface or object to get a message across and make your brand visible to your customers.
I want to create my own holographic stickers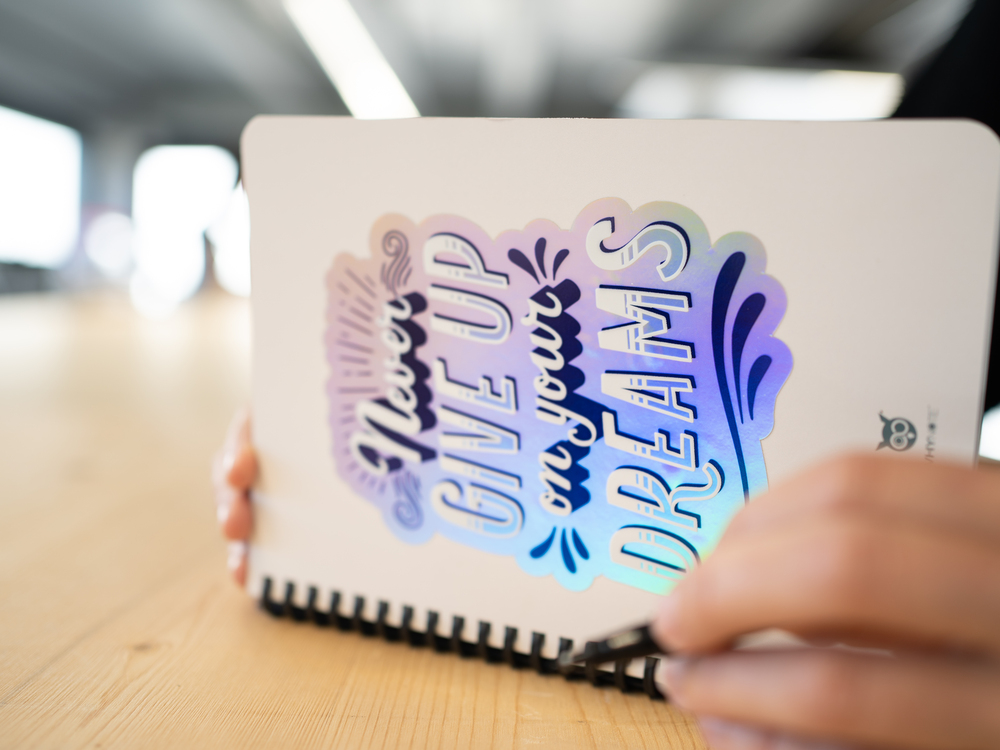 The custom holographic labels are a perfect fit to incorporate into the communications strategy for your business, your sports club or your association. It will increase the visibility of your brand and get your message and logo in front of the right people. Believe us, they'll definitely add a sprinkle of fun and originality to your personal designs!


How do I personalise my holographic stickers?
It's very simple! First, choose the cut and shape you want (round, oval, rounded corners, square, rectangular or custom) or the special holographic sticker types (pre-cut sheets or white on holographic background). Then you just have to choose the size of your sticker and the quantity you want. 
Once you've done this, all you have to do is upload the design you want to appear on your custom stickers. What if you don't have a design on hand but you have an idea in mind? We've got you! Use our online editor to create your design quickly and easily. Once you've submitted your design, our graphic designers will add the precise cut line and send you a print proof as soon as possible for confirmation. Don't hesitate, trust Yeti to create your custom holographic stickers with a wonderful iridescent and metallic effect!
And one last thing! If you feel like it, please tag Yeti on your social media. We'd love to see how you're using your new stickers and the exciting projects they've become part of!