Are you a company director or business owner? For you, the end of the year probably involves corporate gifts. Whether internally, for employees, or externally, for customers and partners, many companies offer a little special something in the run-up to the festive season. In this article, we explain what end of year corporate gifts mean and how to personalise them in the most original way with customised stickers.


Original corporate Christmas gifts for employees with personalised stickers
Seeing as they're your company's best ambassadors, and because you want to reward their commitment and efforts throughout the year, you might think your employees deserve a little attention in the run-up to the Christmas break. Whether it's a personalised hamper with locally made products, a bottle of wine or a discount voucher, end-of-year corporate gifts are very much appreciated by employees. They show your appreciation for the work done, and also motivate your workforce to tackle the next year with joy and enthusiasm. Because yes, an employee who feels appreciated is generally a happy employee, who will be smiling and efficient in their professional tasks. Remember that company gifts for employees should, if possible, create a lasting memory and, above all, convey a meaning.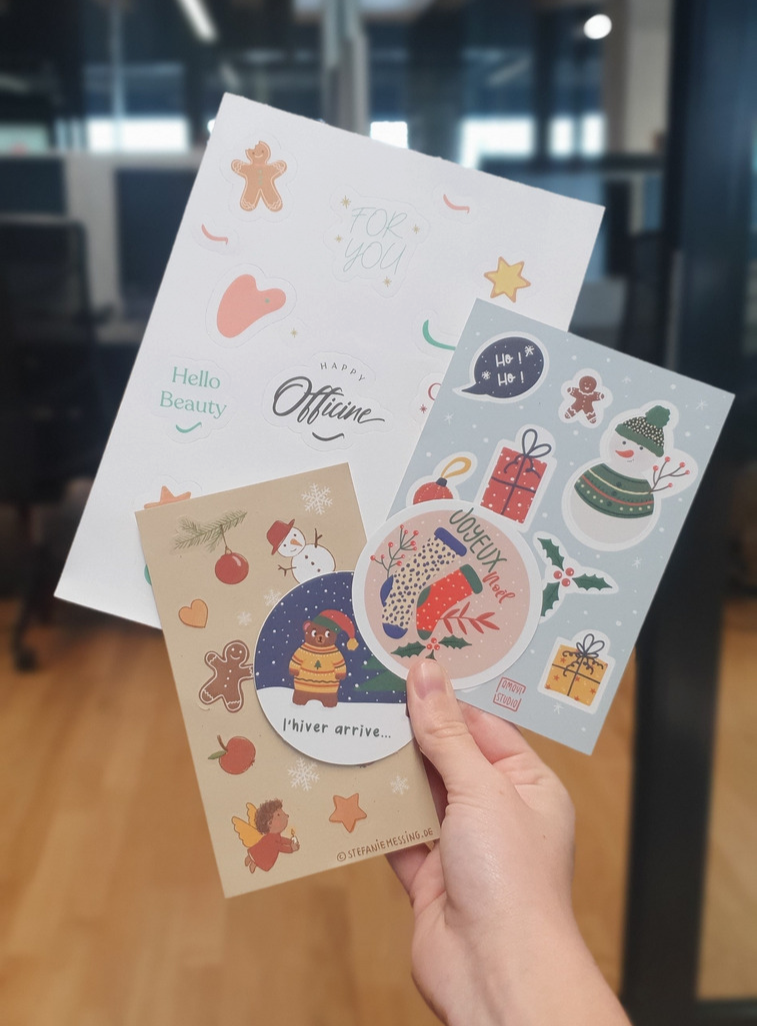 To make these end-of-year corporate gifts even more beautiful and to add your own personal touch, decorate them with a autocollant d'entreprise personnalisé . It's the perfect way to send a thank you message or holiday greeting to your employees, while at the same time displaying your brand identity by using your business logo and colours. Once you've created and received your own corporate stickers, simply stick them on each end of year corporate gift for your employees and that's it!
What gift to give to your customers and partners?
It's not just your employees who would appreciate a special something for their hard work and dedication throughout the year. To make your business stand out and forge closer relationships with collaborators, a kind gesture to your loyal customers and your best partners or service providers will go a long way. An original end of year corporate gift idea for your customers or partners would be, for example, a goodie bag entirely personalised with your brand colours and theme. Metallic pens, insulated mugs & bottles, corporate stickers, tote bags and external chargers, these items can all make up a nice and useful goodie pack for your customers and partners (and for your employees too!). If you want something a bit more premium, you can opt for a range of locally made produce - always appreciated - good bottles of local (or not so local) wine, a delicious mix of chocolates, a high-tech accessory, a watch or a gift card or voucher for a local (or not so local) business. In any case, these corporate gifts are not only an excellent end-of-year business gesture, but also, thanks to the personalised stickers, a lasting way of reinforcing your visibility and confidence in your company.
Create my own corporate gift stickers
A personalised business sticker for your customer presents and partner gifts
For your customers and partners, an end-of-year corporate gift as a thank-you for their continued trust and cooperation is sure to boost your company's image, reputation and trust capital. These small company presents contribute greatly to the maintenance of your professional relationships!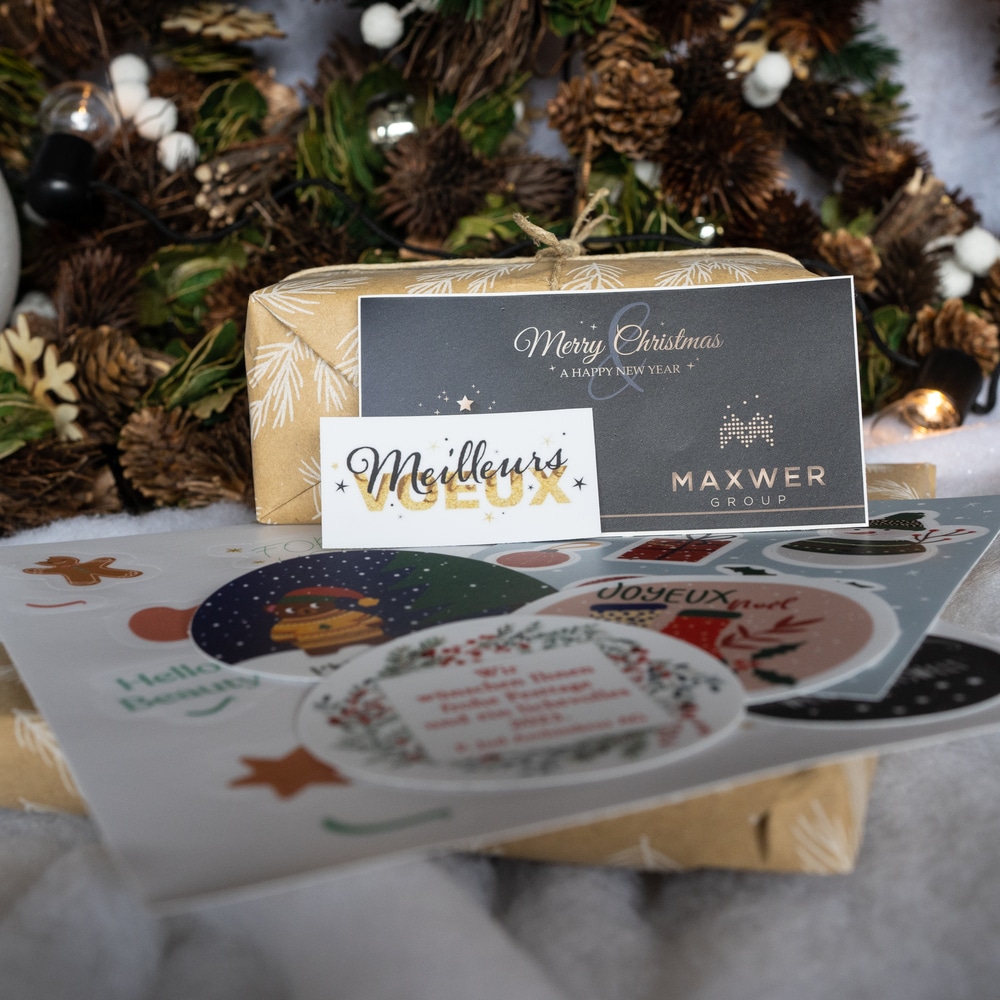 Be creative and create your own personalised stickers to put on your corporate Christmas gifts. Take advantage of this year-end tradition to remind your customers and partners of your brand, while writing a thank-you message, year-end greetings or any other text or visual content on the sticker. Also, take advantage of this opportunity to promote your visual identity, your logo and your colours so that the lucky recipients will have your brand imprinted into the front of their minds. Your customers will remember your company with fondness at every opportunity. This is a great way to strengthen your customer relationships and to set yourself apart from your competition. These end-of-year corporate gifts are an ideal opportunity to strengthen your company's reputation and trust capital with your various stakeholders!


How do you personalise corporate stickers for your end of year gifts?
It's quick and easy! From our website, choose between label rolls or multi-purpose stickers . Label rolls are less resilient but are perfectly suited for large-scale labelling (a minimum of 100 pieces), perfect if you have a large quantity of year-end company gifts to hand out to your employees, customers and partners. As with the multi-purpose stickers, they're available in a variety of cuts.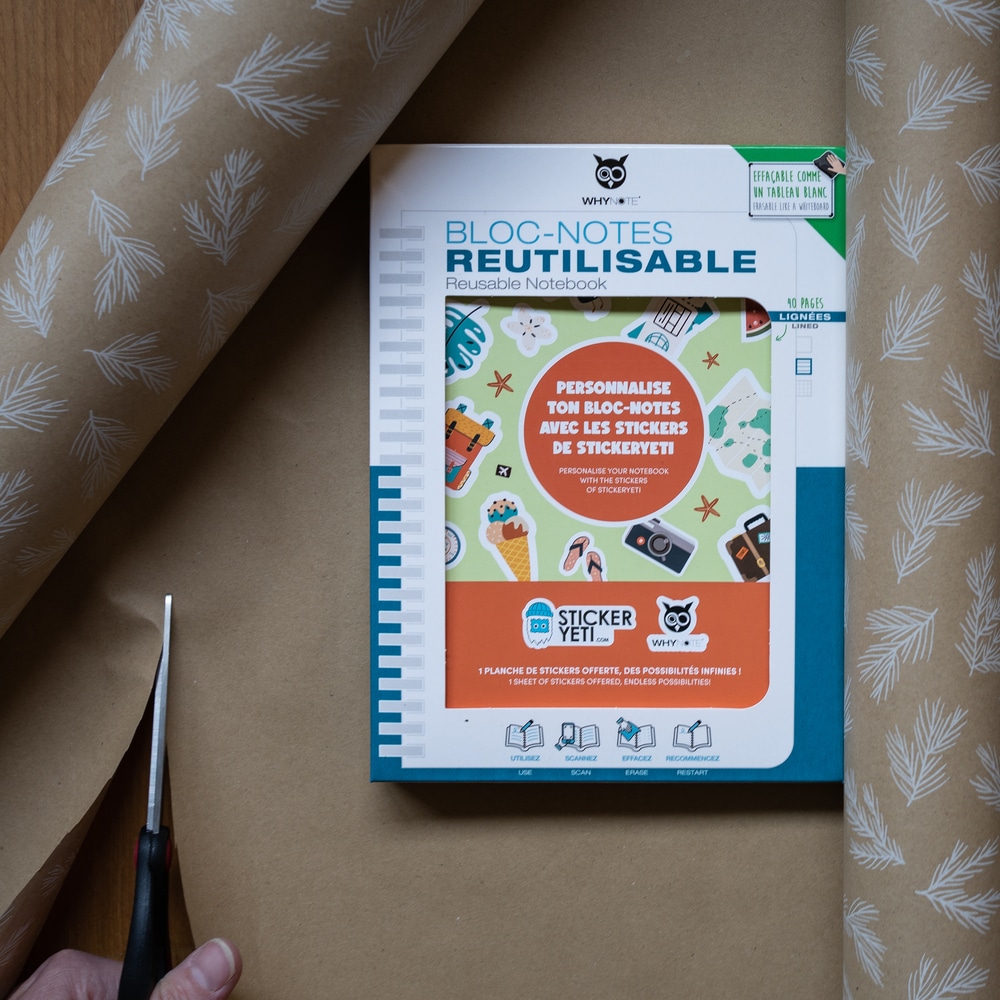 If you're looking for a more durable product, choose the multi-purpose stickers instead, which can be ordered in minimum quantities of 50 pieces. Then, choose the cut you want - round , oval , rectangular , square , rounded corners or custom - the size of the sticker and the quantity you want. All that's left to do is upload the design you want to appear on your customised stickers for your corporate gifts. Don't have a design to hand but just an idea in mind? Don't worry, you can just use our online editor to create multi-purpose stickers. Once you have sent us your design, our design team will cut the line and send you a print proof for confirmation.


Personalise my stickers for end of year corporate gifts
Our tip: custom round sticker with a message and company logo
Are you looking for inspiration for your corporate stickers for end-of-the-year personalised gifts? Yeti has a great tip for you, straight from his cave! Round stickers are very popular and they're one of our best-sellers. Their round shape and modern design will perfectly decorate your personalised corporate gifts and will add a little extra touch to your packaging.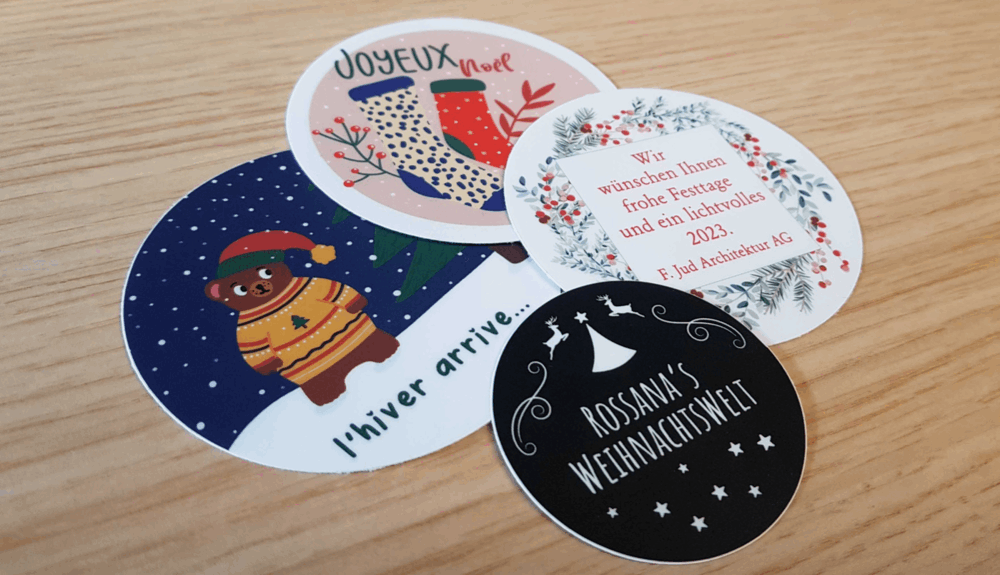 As far as the personalisation of your sticker is concerned, you could choose traditional Christmas-themed colours (red, dark green, white) or perhaps the colours that best represent your brand. Yeti advises you to use your company logo to remind everyone of your business identity. As for the text, go straight to the point and insert a simple note of thanks or best wishes for a Merry Christmas and a Happy New Year. If your sticker is large enough, you can even add a more personal and friendly note to your employees, your most loyal customers or your cherished partners. It's all up to you!
100% unique stickers for a memorable gift
Or go off the beaten track and choose pre-cut stickers sheets . This will take a little more time, but the result is definitely worth it. Pre-cut sticker sheets include resilient stickers with different designs on a single page. The size of the sheet is 100% customisable.
This is an excellent opportunity to create a personalised sticker for every employee, customer and partner. On each sticker, you can incorporate your logo while changing the shape, size and the text of the label. A 100% personalised Christmas and New Year's greeting will touch the recipient even more. Consider it!