Discover Stickeryeti's custom sticker sheet , the perfect solution for all the creative people among us! On this sheet of pre-cut stickers you can print several different illustrations and designs on a single page. These sticker sheets are therefore a truly original, tailor-made product for all artists, illustrators and tattoo artists!
What is a sticker sheet?
Specially designed and 100% customisable, the custom sticker sheet allows you to add several different designs on a single page. Artists - unleash your creativity and print your own sticker designs! The size and surface of each sticker can also be customised, so you can print several different versions of your own designs on one single sheet. Take your designs to the next level and transform your own artwork into high-quality design stickers!
Custom sticker sheets are an effective communication tool that's easy to distribute and always ensures a WOW-effect! Whether you're giving it to a customer, a prospect, business partner or anyone else, they'll be impressed by a custom printed sticker sheet with different designs, as it's both original, fun and professional.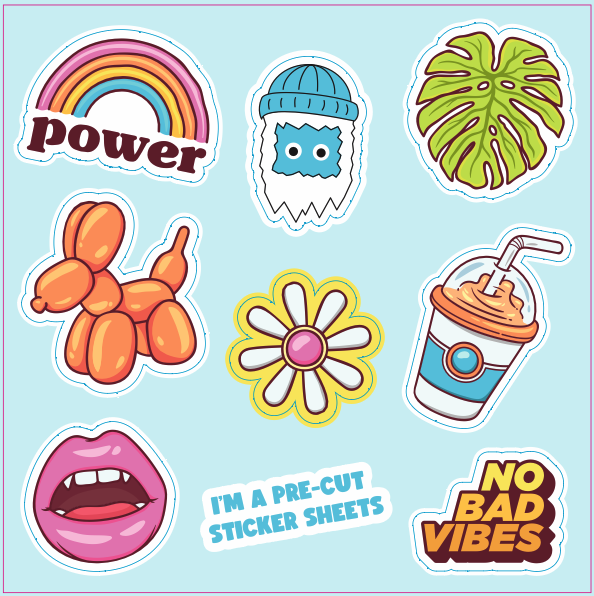 This pre-cut sticker sheet is part of our free sample pack. Would you like to test the quality of our stickers? Order your free sample pack now !
How do you use custom sticker sheets?
Each sticker is pre-cut and ready to use. Stick them on all kinds of items or any flat surface to display your creations, or you can hand them out to customers to show off your designs. Our pre-cut stickers on custom sheets are also resilient - they're just as resistant to water, sun and friction as multi-purpose stickers. Choose your sheet size (A4, A5, A6... or made-to-measure) and have your stickers printed on a scale that perfectly matches your needs - it's up to you!
Artists love our holographic custom sticker sheets
Follow in the footsteps of French illustrator Camille Fourcade and Swiss illustrator and graphic designer Sandra Staub, and have your own creations printed on holographic stickers! Custom sticker sheets allow you to include different illustrations on a single page, creating a beautiful rainbow and metallic effect that's sure to catch the eye!
Create your own holographic stickers
"The quality of the paper and the holographic effect on my sticker sheet is incredible! This shiny, metallic effect gives my drawings a real spatial ambience." Camille Fourcade
"Holographic stickers are the new trend! I was able to transform my illustration into a high-quality holographic sticker. What I liked best? The fact that a professional graphic artist specifically took care of adding the cut line to my stickers. The process was very quick and easy - a big well done to the Stickeryeti team! Now all I have to do is spread good vibes with my pre-cut stickers everywhere!" Sandra Staub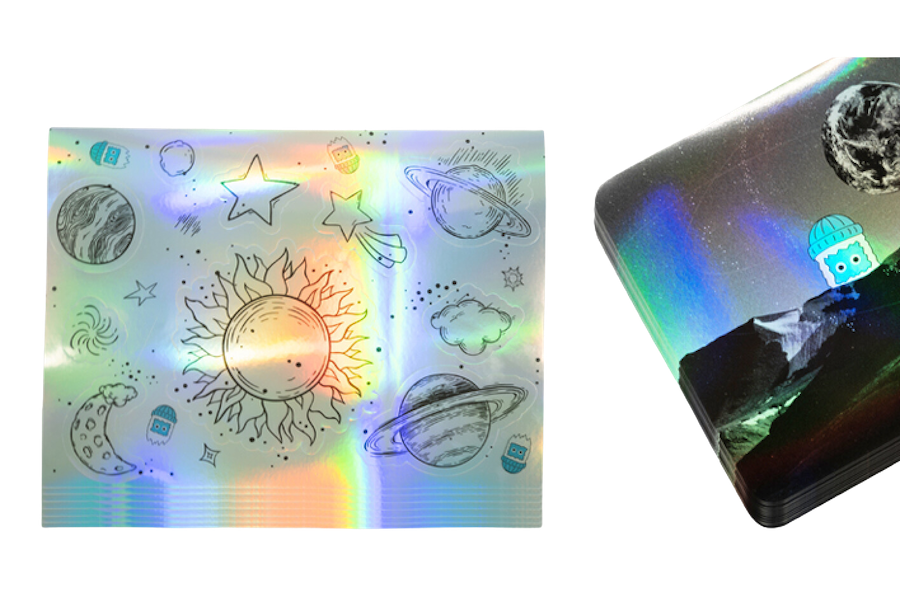 Personalised stickers: popular with tattoo artists
Many tattoo artists also print their own creations on stickers. In addition to the tattoos they reproduce on multi-purpose stickers, custom sticker sheets allow them to print several different tattoos, of various types and shapes, on a single page.
Some tattoos are so beautiful that they're worth displaying elsewhere than on the skin, right? Whether they're used as decoration, to use as marketing material for your potential customers or to keep for yourself as a souvenir of the tattoos you've created, stickers are a practical and popular medium for tattoo artists!
The steps involved in creating a custom sticker sheet
But how are these custom sheets of pre-cut labels and stickers - a product much loved by artists in particular - made?
The first step is to print large sheets containing several individual and smaller sheets of personalised stickers, and then leave them to dry.

Next comes the lamination stage, during which a thin layer of protective film is applied to the stickers to enhance their resistance to water, scratches and fading. It's thanks to this step that our stickers stand up to the elements and stay put for a long time!
After lamination, the perimeter of each sticker is automatically pre-cut on our machines.


After manually checking that the individual pre-cut has been carried out correctly, the sticker sheets are then cut.



The final step is to detach each sticker sheet by hand, assemble them and prepare them for dispatch to customers. And that's it!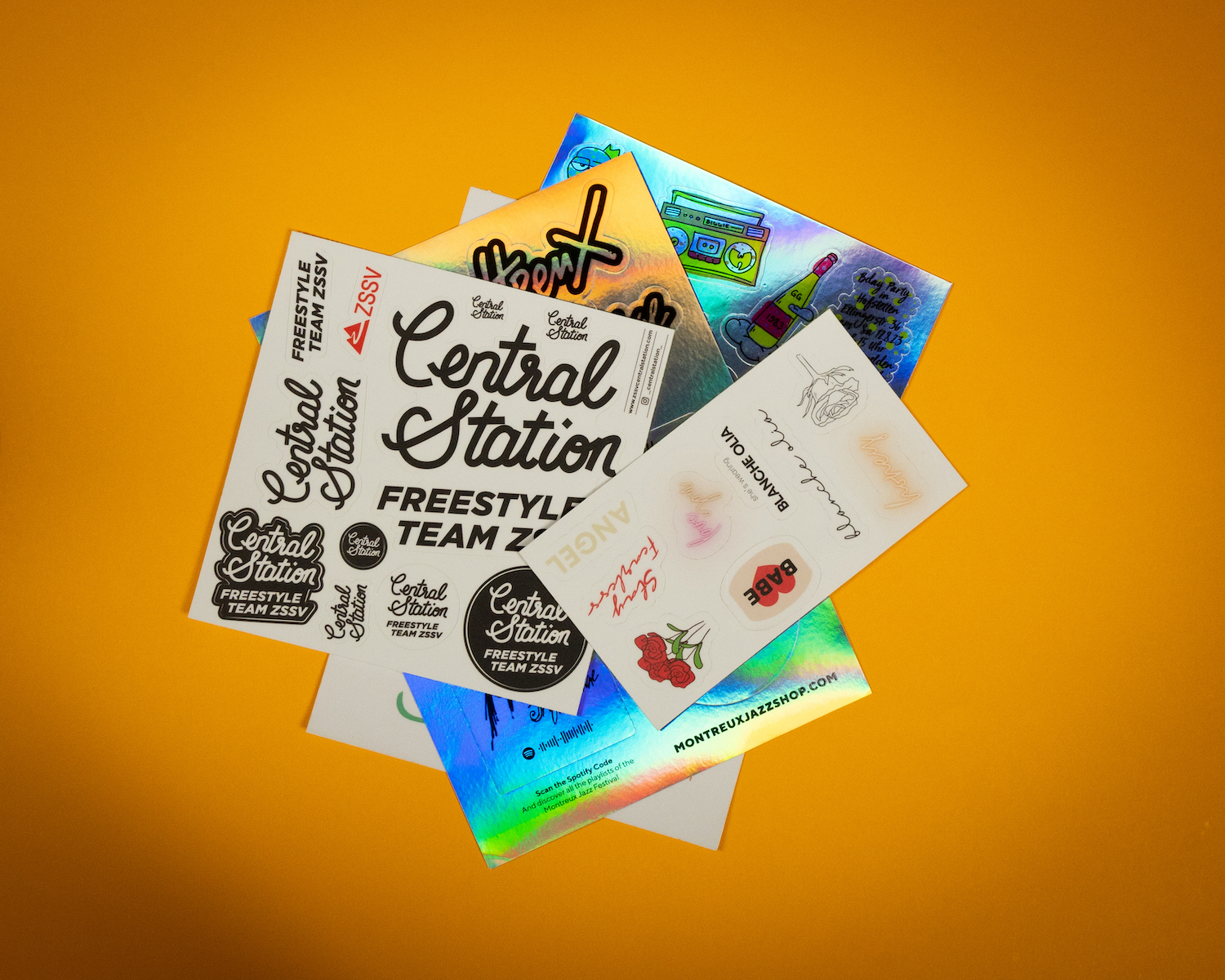 How do I create my own custom sticker sheet?
Nothing could be simpler! In the
Once your design has been uploaded, our design team will add the cutting line and send you a print proof as soon as possible. Once you've approved the artwork, your custom sticker sheet will be printed and ready to be sent to you. Onwards and upwards, artists!