Stickeryeti has been a proud sponsor of HC Sierre for several years and benefits from great brand exposure at the Graben ice rink. At the same time, the team at Stickeryeti also works hard to produce customised labels for the club, whenever they need them.
Packs of customised stickers in the club colours and logo
Stickeryeti has made the team branding visible on many areas of the ice rink: on the giant screen when penalties are announced, on the goalkeepers' gloves and on the youth team's jerseys. On top of this, the company also creates fully personalised sticker packs that HC Sierre can hand out to their supporters at different occasions.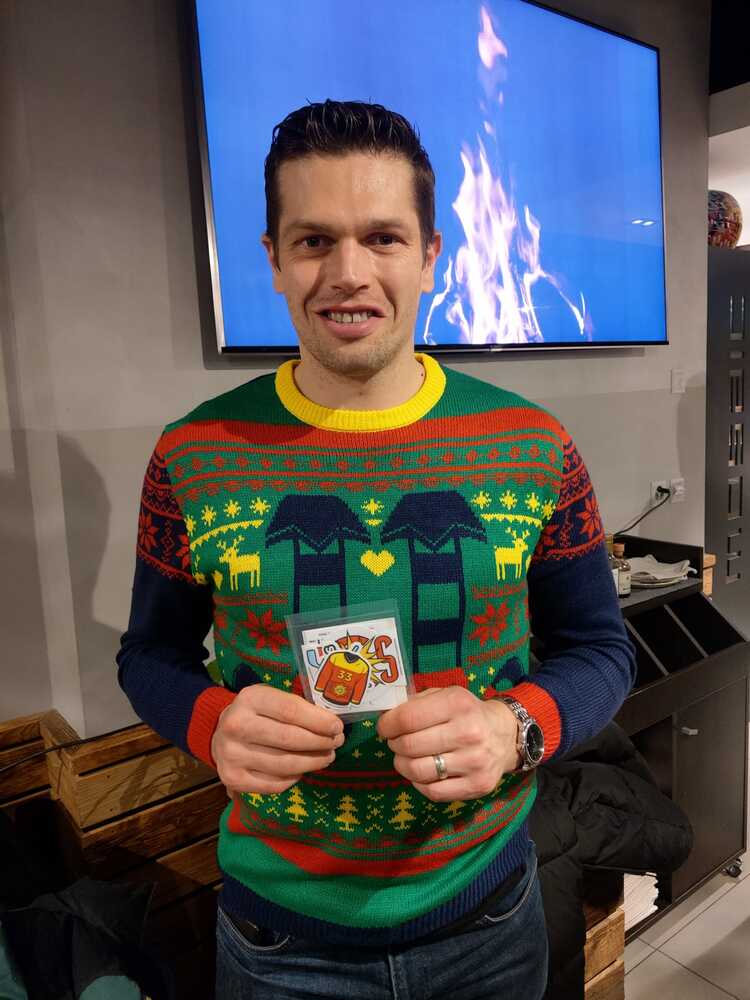 HC Sierre's Canadian striker Eric Castonguay seen here with a pack of stickers that have been fully customised with both the club's logo, as well as Stickeryeti's branding.
HC Sierre gifts their fans and supporters small packs of fully personalised stickers that represent the partnership between the club and the two sticker brands Stickeryeti and Stickerkid. Each pack contains a sticker with the HC Sierre logo printed on it, as well as two stickers showing Stickeryeti and Stickerkid logos and a further two personalised labels: one in the shape of a hockey jersey with the club's colours and another, more decorative, with the club's name and foundation date.
I also want to create my own customisable stickers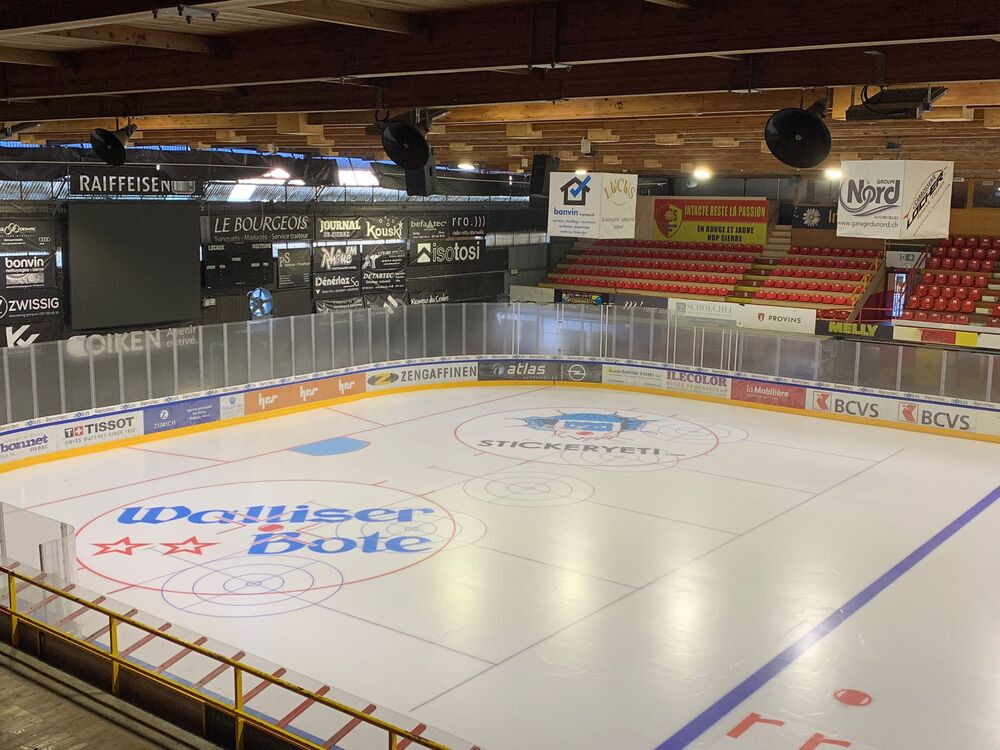 Stickeryeti's logo has a special place on the ice of the Graben ice rink in Sierre.
"Thanks to Stickeryeti's long-term support, HC Sierre can remain competitive in the Swiss Hockey League. The team is always ready to listen to our needs and to guarantee original and personalised stickers for our fans! We thank them again for their support, YOUR PASSION, OUR STRENGTH! Valentin Genoud, sponsoring, communication and events manager of HC Sierre.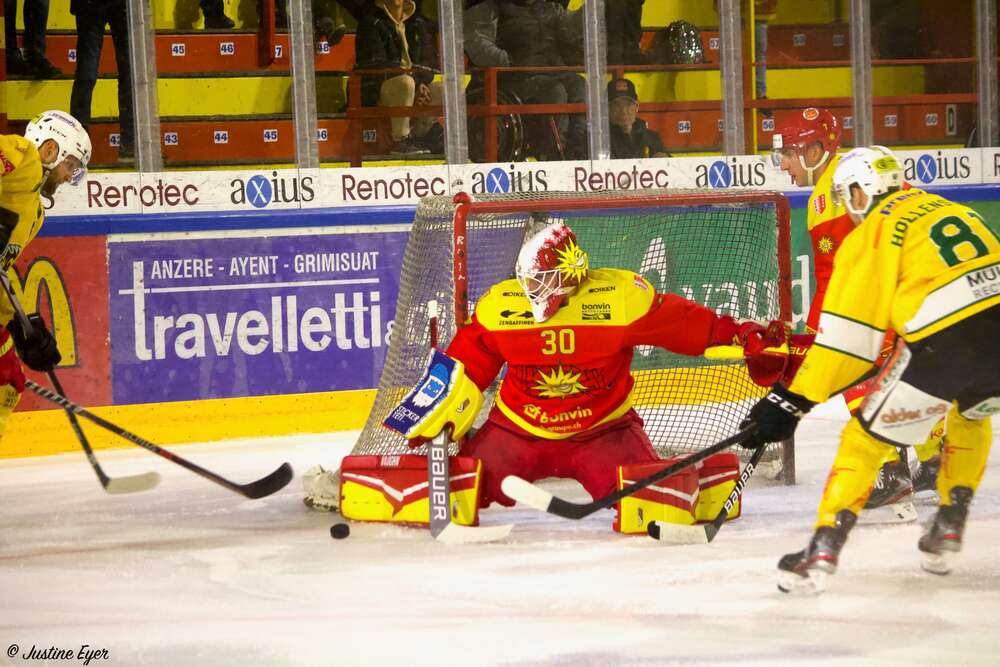 Stickeryeti's logo is also displayed on the gloves of HC Sierre's goalkeeper.
The club's youth wing visits the sticker manufacturing site
As part of the partnership between Stickeryeti and HC Sierre, young hockey players from the club's Junior wing were able to visit the manufacturing site where all the stickers are made. They also had the opportunity to make their own customised sticker packs specially designed and printed in the club's colours. They also had fun decorating a surfboard with different labels.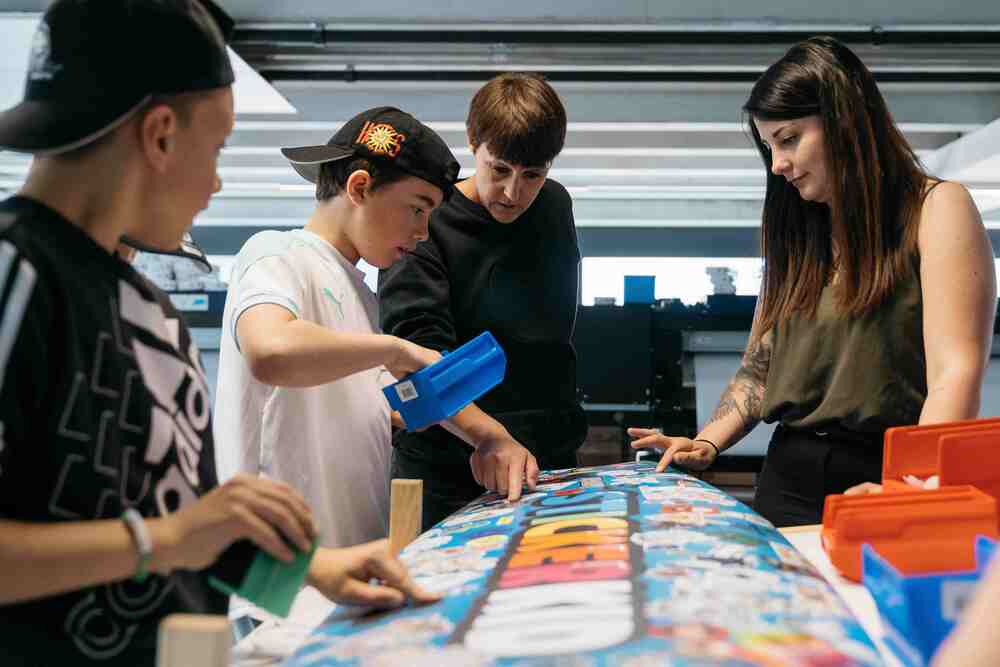 The young hockey players from HC Sierre had fun had fun decorating a surfboard with personalised stickers.
Customising stickers for a sports team or club
Are you part of a sports club or team and are you looking to create your own personalisable stickers? Whether you want to hand them out to supporters, decorate a club house, make signage or brand clothing and accessories, Stickeryeti's customisable stickers are the perfect products for you! Have your logo, colours, slogan or information printed on:
I choose my type of sticker and customise it
How to customise your stickers in 3 steps
Each personalised sticker with your logo, colours or slogan can increase the visibility and awareness of your brand. Whether you're part of a sports club, a company or an association, the customisable labels will be real eye-catchers. You can stick them on any flat surface - on various objects, windows, walls and even cars - to get people talking about you, send out a message and increase your visibility.
Here are the 3 steps to follow to create your own personalised stickers:
Choose the type of sticker you want (multi-purpose, for walls and floors, sticker rolls, iron-on labels for textiles).
Choose the size, the number of stickers you need and the finish.

Upload the image/design you want to personalise the stickers with. The designers will manually add the perfect cutting line and you will receive a digital print proof within 24 hours for confirmation.