Your homemade product is unique! So make it even more original by personalising its packaging with jar labels. Label all your containers such as jars, bottles or flasks for your home-made products: jams, drinks, syrups, sauces and many more. This is the personal touch that will make your products even more exceptional and help them stand out!
Customisable jar labels for jams and honey
Your own home-made products deserve to be labelled in the best possible way. Choose our multi-purpose stickers which are perfect for all containers, jars, pots or bottles, whether they're made of glass or plastic. The perfect solution for everyone fond of pickling, baking and cooking who want to prepare tasty dishes while remaining local and seasonal.
Labels for your strawberry-rhubarb jam jars, labels for your bottles of mint syrup from the garden or labels for your jars of homemade honey: you're bound to find something you like among Stickeryeti's customisable stickers!
You can also label the packaging containing your best and trendiest organic and revitalising drinks such as kombucha, kefir, vitamin-packed fruit juices, delicious iced teas or detox water. The bottle labels will not only describe the contents of each container, but will also add a personal and fun touch to each of them. This means that you can add your own personal touch to each of your creations ;-)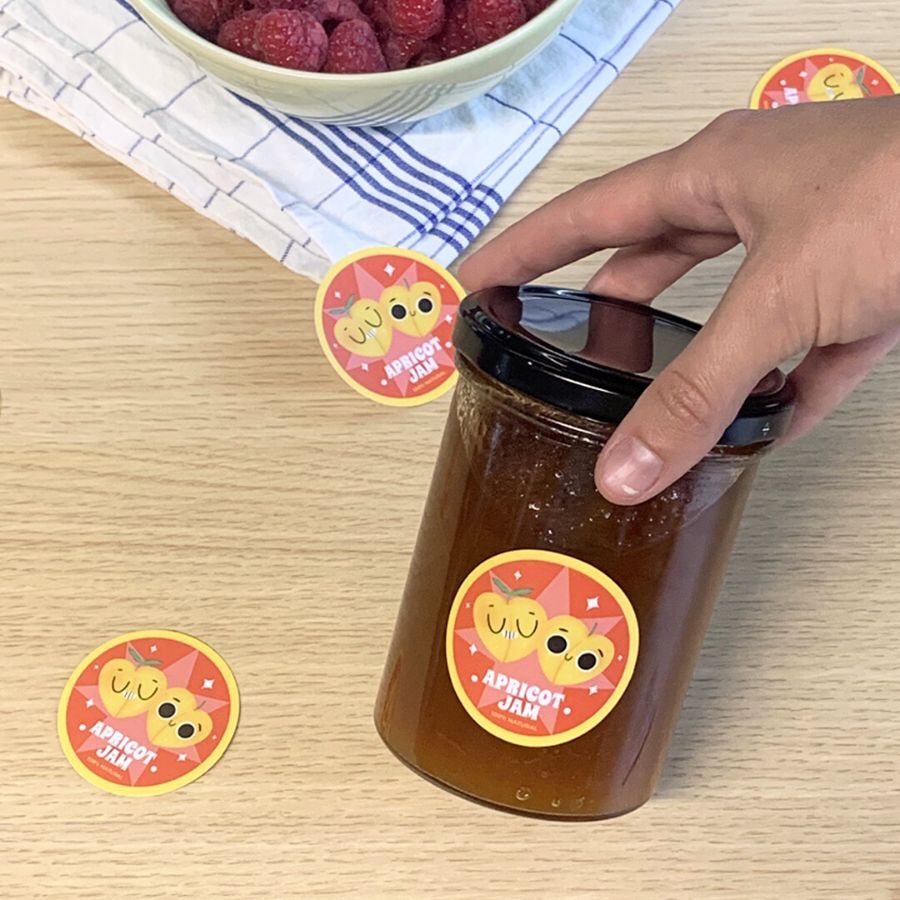 However, self-adhesive labels are not just suitable for drinks. When it comes to food, think of jar labels for your own pickled mushrooms, herbs from your garden, homemade hummus or mayonnaise, and also for all the dry foods such as salt, pepper, pasta, rice, coffee, nuts or lentils that you store in your cupboards. Storing your food in glass containers is great, but after personalising your containers with Stickeryeti's jar labels it's even better!
Jar labels even for professionals!
Our labels for jars, pots and bottles are also suitable for small businesses, entrepreneurs and professionals. Whether you own a restaurant, chocolate shop, confectionery, bakery or grocery shop, you would get the best value for money with our label rolls. They're perfect for mass labelling of different types of products and suitable for single use. These customised labels are somewhat less resistant than our multi-purpose stickers, but they're much more affordable at a larger scale. They're a great solution for large-scale labeling of jars, bottles, flasks and much more.
I'll personalise my roll of self-adhesive labels
With these label rolls, you can label all your home-made creations; everything from preserved fruit or vegetables from the garden to tomato sauces made with your own secret recipe, also including delicious liqueurs and spirits that will help you add a finishing touch to a good meal.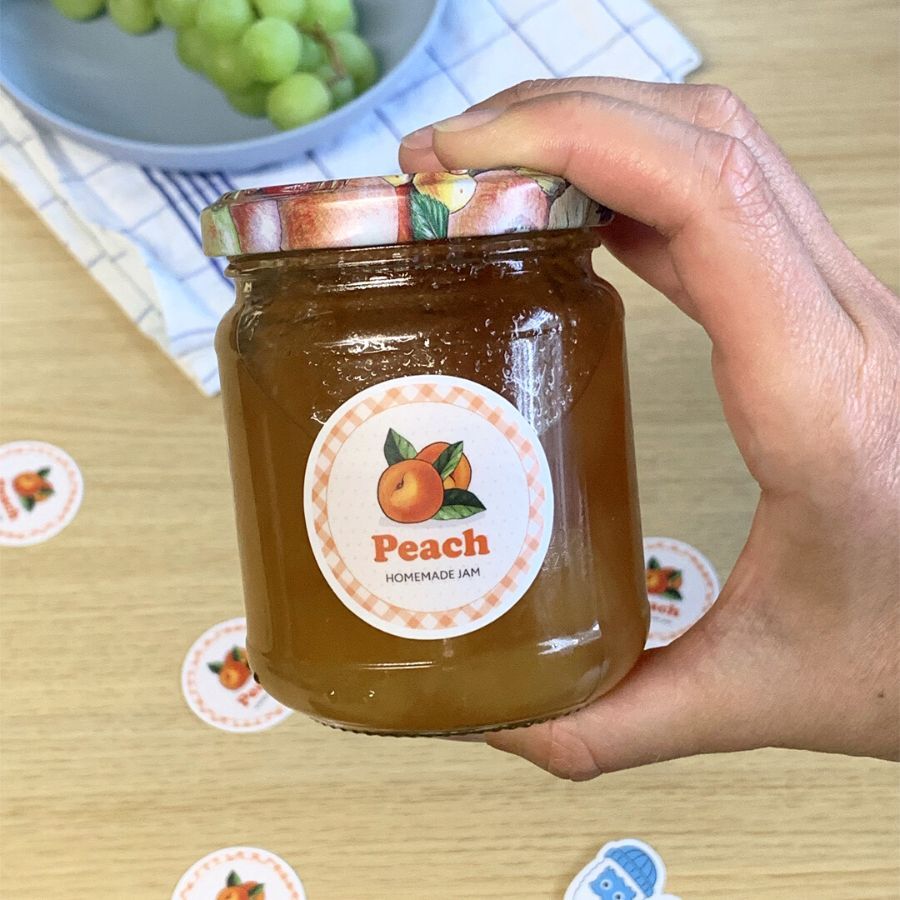 Local, tasty and responsible cooking is also reflected in the manufacturing and storage of food. Therefore, instead of plastic packaging and bottles, why not store your home-made food in glass jars and personalise them with self-adhesive labels? Do the same with labels for honey, jam or sauce jars and labels for wine, syrup, juice or liqueur bottles.
Our favourite: transparent labels for your jars and bottles
Whether you're a cooking enthusiast or a small business, you can benefit from labelling all your jars, bottles, flasks and pots with Stickeryeti's customisable labels. A bit of advice from us? Both the multipurpose stickers and the label rolls come with a transparent background that looks great on glass flasks, plastic containers, bottles, pots and jars. The personalisable labels add a touch of originality and fit perfectly on all your containers so that each food or drink item looks as inviting as possible.
How can I personalise my jar and bottle labels?
Nothing could be easier! Firstly, choose between self-adhesive multipurpose labels or label rolls. Choose from the different cuts and backgrounds and then select the desired size of the label, the amount of labels you want and at last the finish.
Then, simply upload the design you want to appear on your personalised jar, pot or bottle labels. The cutting line will be added free of charge by our designers and you will receive a digital print proof within 24 hours to confirm. So go ahead, it's easy, fast and the customisable jar, bottle and other container labels will make your home-made preparations look even tastier!
Download your ready-made design for personalised jar labels
As mentioned above, if you already have the design you want for your labels, you just have to upload it using the dedicated tool on our website. Image files (TIFF, EPS, PSD, JPG, PNG or BMP) and vector files (Illustrator in AI or EPS) are the accepted formats. Please note that for white printing on transparent background, only vector files (AI, EPS) are supported. Our specialists will then add the cutting line before you confirm the print proof.
You can also create your own design using free tools available on the internet. These include Canva, Photopea, graphic editing and image processing platforms that can be accessed directly from your web browser. Also, Adobe is currently testing a free version of Photoshop on the web. This version includes basic functionality to make quick changes to images.
Create a custom design for your labels with the Stickeryeti's editor
If you choose round, oval, square or rectangular multipurpose self-adhesive labels for your jars, pots, bottles and flasks, you can use our online-builder. This design tool is suitable for anyone who has an idea in mind, but no graphics yet.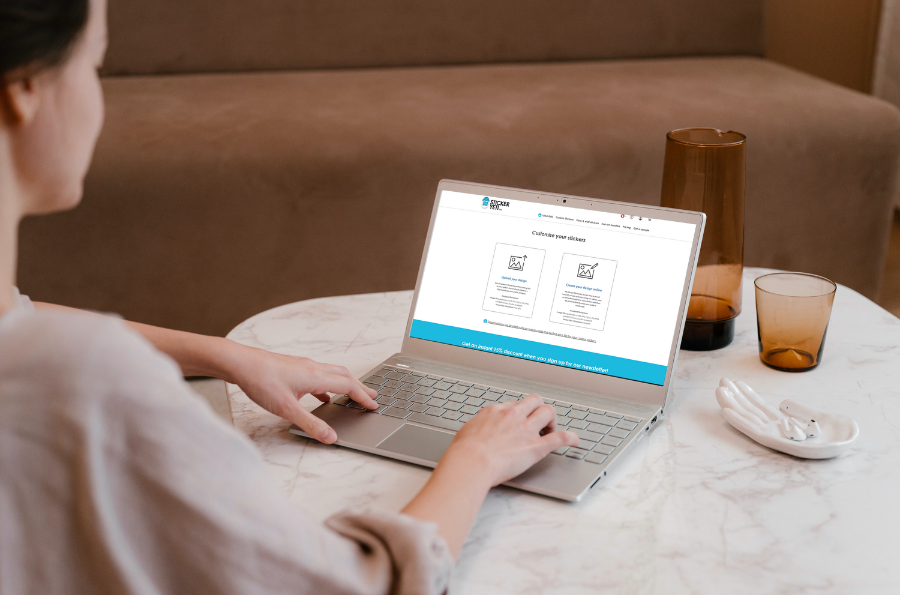 Once in the editor, you can add your image, text and colour. You will also be able to change the dimensions of your custom stickers as well as the desired quantity. It's up to you!